Mandi Miller is a lively dynamic singer & performer who hails from Portland Oregon, USA.  Mandi has toured and performed all over the USA, Europe, and New Zealand.   She's lived the last 22 years in Christchurch, New Zealand. 
Currently she fronts: 
Retrosonic 4-piece rock/pop band (2006 - ) 
Mandi Miller Band: Rockin' the 80s (2021 -)
Liberator (8-piece band) (2021 - )
X-Files Duo (2010 - ) 
Mandi Miller Acoustic Duo (2 acts): piano/vocals/harmonies & guitar/vocals/harmonies
Mandi Miller Soloist (2): 2 solo acts;  singing / entertaining with tracks and a singing/keyboard act 
Currently, Mandi has released 2 original new singles that are available on iTunes.  Her single "Never Say Never" hit #2 in the NZ iTunes charts, August 2017.  For live video performances, pictures, and links to originals, go to : Facebook - @mandimillermusic and Mandi Miller Youtube channel:  https://www.youtube.com/channel/UCiXh2piUPyiVmoZFQFtH0PQ 
In New York City, June 2017, Mandi sang on stage with Tommy Bowes (lead singer in Blood, Sweat, & Tears and Tower of Power), Richie Cannata (Billy Joel's saxophonist), George Panos, & Jim Moran (view video on this site) 
2016, Mandi and band/duo partner, Mark "Android" Wilson (of the 1970's NZ band, Androidss) wrote & recorded a tribute to the late David Bowie (Starman in the Stars: Ode to Bowie).  Mandi had 26 of her school aged children sing in the video.  Out of 1000's of entries, the song was accepted by Italian film producer, Rita Rocca, to be included in her film on Bowie, BOWIE NEXT, which aired all over Europe on a major TV channel, RAI 5.   This song and duo later featured in the book, BOWIE NEXT.   See Youtube: https://youtu.be/gfVJ5PxDBZc 
Mandi performs regularly  - an average of 3 gigs week - at clubs, corporate events, functions, and weddings. 
In 2004-2006 she toured NZ in an ABBA, Supremes, Fleetwood Mac, Grease, Rocky Horror tribute showband (DnD Showband, Christchurch) for 2 years. 
In 2012, Mandi competed in Los Angeles, CA, at the World Championships of Performing Arts where she took 2 gold medals in self-accompanied performance (vocals/keys) - one in "rock" and the other in "contemporary"  - and 2 bronze for singing  "country" and "R&B" (vocal/dance performance). 
Mandi continues to perform both solo and band shows frequently in the USA. 
A few points that highlight Mandi's singing career: 
She toured the USA and Europe with Continental Singers as their lead vocalist show-opener; sang with Michael Crawford (Phantom of the Opera); sang for Helen Clark (then Prime Minister); soloed in Christchurch at noteable venues such as The Cathedral in the Square (guest artist, Jazz Sundays), Christchurch City Council (CCC) performances in Cathedral Square, CCC events, The Octagon Restaurant, and regularly at Christchurch Casino.  In 2013, Mandi Miller & her USA band played 4 days at world famous Pendleton Round Up (Oregon, USA).  You may have also seen Mandi on Trackside singing national anthems at races. 
She has recorded 3 CDs; one of which is of her original music. 
She has worked as an independent vocal & singing coach since 2005 at her home studio and in Christchurch schools: Sumner School (2006 - ) & Redcliffs School (2010 - ). 
This international singer performs laid back grooves to upbeat, dancy, sing-along entertainment.  Stylish and Charismatic, Mandi's smoky vocals are expressive and easy on the ear!  She projects high energy and engages with crowds, making her shows memorable, personable and professional - everytime!  She has been a favourite choice of singing entertainment for Millennium Hotels and Denyse Saunders Fashion Shows, to name a few.  Whether fancy dress, formal, or themed, she always dresses up for the occasion!
MANDI MILLER SOLOIST (2 Acts & Songlists)
Reviews
"Mandi Miller has sass and class. Mandi's a superb singer who moves like a cat; she's riveting. I saw Mandi at a fashion show recently; she was nominally the entertainment component but in fact stole the show with her singing, personal fashion sense and style along with her charismatic presence." 
- JAMES DANIELS | BREEZE BREAKFAST ANNOUNCER | MEDIAWORKS CANTERBURY  
"When representing the company and hosting key clients, we need entertainers that reflect our high quality product and services. The X-Files Duo, Mark Wilson and Mandi Miller, are our first choice for entertainment as they are enthusiastic, professional and have great stage presence. From back ground atmospheric music to getting everyone up on the dance floor, they have a huge collection of songs that appeal to a wide range of people and can be tailored to suit our event themes." 
- Alison Smith, Director of Sales Conference and Incentives, New Zealand and Australia, Millennium Hotels and Resorts. 
"I always feel so proud of Mandi the way she dresses and she and has different change of clothes always looking gorgeous or just appropriate for whichever song she is singing and also knows how to interact with the crowds – walk and  move on the stage.  She is great for any gigs at all or even conferences for clients to be entertained as she certainly knows how to work that room and is up to International standard with her shows and her professionalism.  I would highly recommend her for any event at all big or small." 
- Lynne Puddy-Greenwood, Events Editor for Canterbury Today magazine
MANDI MILLER SOLOIST:
VOCAL / TRACKS / DANCE Songlist
8 Days a Week - Beatles 
Africa - Toto
All About that Bass - M. Trainor   
All I Wanna Do is Have Some Fun - Crow 
Always Remember Us this Way - Gaga
Any Man of Mine - Shania Twain
April Sun - Dragon
Are You Old Enough - Dragon 
Atomic - Blondie
Bad Girls - Donna Summer 
Bad Moon - CCR 
Bad Romance - Lady Gaga 
Billie Jean - Michael Jackson 
Black Horse & Cherry Tree -  KT Tunstall 
Back to Black - Amy Winehouse 
Believe - Cher
Bette Davis Eyes - Kim Carnes 
Black Velvet - Alanah Miles 
Blame it on the Boogie - Jackson 5 
Blank Space - Taylor Swift 
Boys Light Up - The Dudes 
Boys of Summer - Don Henley 
Brass In Pocket - Pretenders 
Breathe - Faith Hill
Breathless - Corrs
Brown Eyed Girl - Van Morrison 
Call Me - Blondie 
Callin' Baton Rouge - Garth Brooks
Celebration - Cool & the Gang
Counting the Beat -The Swingers 
Country Roads - John Denver 
Crazy - Gnarles Barkley 
Crazy Little Thing ..Love - Queen 
Creep - Radiohead 
Dancing Queen - ABBA 
Despacito - Daddy Yankee 
Dirty Deeds - AC/DC 
Don't Know Why - Nora Jones 
Don't Stop - Fleetwood Mac 
Do Right Woman, Do Right Man - Aretha 
Down On The Corner - CCR 
Down Under - Men at Work 
Drops of Jupiter - Train 
Dreadlock Holiday - 10cc 
Dreams - Fleetwood Mac 
Drivin' My Life Away - Eddie Rabbit 
Eleanor - The Turtles
E.T. - Katy Parry 
Ex's and Oh's  - Elle King
Fast As You - Dwight Yoakom 
Flashlight - Jessie J 
Fire - Pointer Sisters 
Flowers On the Wall - Eric Heatherly
Forget You - Cee Lo Green 
Get Lucky - Daft Punk
Get the Party Started - Pink
Gimme One Reason - Tracy Chapman 
Girls Like You - Maroon 5 
Go Your Own Way-Fleetwood M 
Great Balls of Fire - J L Lewis  
Gypsy - Fleetwood Mac  
Have You Ever Seen Rain - CCR  
Heart Of Glass - Blondie  
Hey Ho - Lumineers
Hey Soul Sister - Train  
Hit Me Baby 1 More Time - Spears  
Hot & Cold - Katy Perry  
Hot Stuff - Donna Summer  
Hurts So Good - John Cougar
I Can See Clearly Now - Belefonte  
I Do I Do I Do - ABBA  
I Feel Lucky - Mary Chapin-Carpenter  
I Kissed a Girl - Katy Perry
I Love Rock & Roll - Joan Jett  
I Love it - Icona Pop  
I'm A Believer - Monkeys/Smashmouth  
I'm Not the Only One - Sam Smith  
I'm So Excited - Pointer Sisters  
I'm the Only One - Melissa Ethridge  
I Saw Her Standing There - Beatles  
Is This Love - Bob Marley  
I Try - Macy Gray  
It's A Heartache - Bonnie Tyler  
It's Raining Men - Weather Girls  
I Want that Man - Debbie Harry  
I Want to Hold Your Hand - Beatles  
I Will Survive - Gloria Gaynor  
Joy to the World - 3 Dog Night  
Just Like A Pill - Pink  
Keep Your Hands to Yourself  
Kiss - Prince  
Kiss Me - 6 Pence
Kryptonite - 3 Doors Down  
La Bamba - Los Lobos  
Last Dance - Donna Summer  
Leave Me Alone (I'm Lonely) - Pink  
Life is a Highway - Rascal Flatts  
Little Lies - Fleetwood Mac  
Listen To The Music - Doobie Bros  
Long Train Runnin' - Doobie Bros   
Lydia - Fur Patrol  
Macarena -  Los del Rio  
Mama Mia - ABBA  
Man, I Feel Like a Woman - Shania  
Margaritaville 
Maria - Blondie  
Marry You - Bruno Mars  
Mercy - Duffy  
Material Girl - Madonna  
Miss You - Rolling Stones
Moondance - Van Morrison  
Moves Like Jagger - Maroon 5  
Mr. Brightside - The Killers  
Mustang Sally - Commitments  
Natural Woman - Aretha Franklin  
No One Needs to Know - Shania  
Oh My - Gin Wigmore  
One Hand In My Pocket - Alanis Morrisette  
Place Your Hands - Reef  
Play Funky Music - Wild Cherry  
Peal's a Singer - Cher / Elkie Brooks  
Perfect Day - Lou Reed  
Poker Face - Lady GaGa  
Possession - Sarah McLachlan  
Pretty Woman - Orbison   
Price Tag - Jessie J   
Proud Mary - CCR   
Queen of Hearts - Juice Newton 
Roxanne - Police  
Say That You Love Me - Fleetwood Mac  
Santeria - Sublime  
Satisfaction - Stones  
Send my Love ... Adele  
Send Me An Angel - Real Life  
Sex On Fire - Kings of Leon  
Shake It - Metrostation  
Shallow - Lady Gaga 
Shambala - 3 Dog Night
Shook Me All Night Long - AC/DC  
Signed, Sealed, Delivered - Stevie Wonder  
Simply The Best - Tina Turner  
Single Ladies - Beyonce  
Smells Like Teen Spirit - Nirvana
Smooth - Santana / Rob Thomas  
Smooth Operator - Sade
Soak Up the Sun  - Sheryl Crow  
Something To Talk About - Bonnie Raite  
Son Of A Preacher Man - Dusty Springfield  
Starman - David Bowie  
Stay the Night - James Blunt  
Suddenly I See - KT Tunstall  
Summer Of 69 - Bryan Adams  
Summertime Sadness - Lana Del Rae  
Sunday Morning - Maroon 5  
Sweat (A La La La) -  Inner Circle  
Take Your Mama Out - Scissor Sisters  
Tainted Love - Soft Cell  
Tennessee Whiskey - Chris Stapleton  
That's Not My Name - Ting Tings  
The Gambler - Kenny Rogers
The Joker - Steve Miller Band  
These Boots Made For Walkin - N. Sinatra  
The Sign - Ace of Base
This is the Life - Amy McDonald
Three Little Birds - Bob Marley  
Titanium - Sia  
Tonight Tonight - Hot Chelle Ray  
Thorn in My Side - Eurythmics  
Torn - Natalie Imbrigula  
Underneath Your Clothes - Shakira  
Uptown Funk - Mark Ronson ft. Mars  
Valerie - Amy Winehouse  
Venus - Shocking Blue / Bananorama  
Walking On Sunshine - Katrina & Waves  
Wagon Wheel - Old Crow Medicine Show  
Warwick Avenue - Duffy  
Waterloo - ABBA  
We Are Family - Sister Sledge  
We Are Young - FUN  
What's Up - 4 Non-Blondes  
Whenever, Wherever - Shakira  
Where Did Our Love Go? - Supremes  
Why Does Love D This To Me? Exponents  
Will You Still Love Me Tomorrow - Shirelles    
You Got It - Orbison / Raitte  
You Know I'm No Good - Winehouse
You're So Vain - Carly Simon  
You Sexy Thing - Hot Chocolate  
Zepher Song - Red Hot Chili Peppers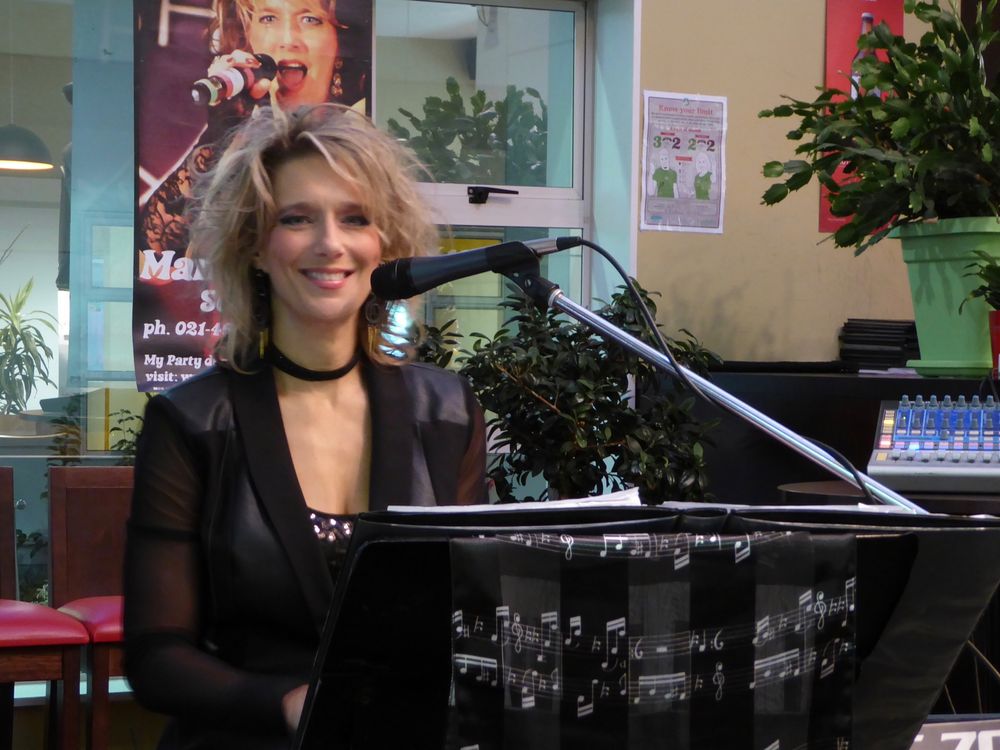 MANDI MILLER SOLOIST :
VOCALS / PIANO  Songlist 
Always Remember Us This Way - Gaga
*Beautiful Lie – Mandi Miller original 
Rehab - Amy Winehouse 
The Only Exception - Paramore 
Hey There Delilah - Plain White Tees 
Drops of Jupiter – Train 
Hallelujah - Leonard Cohen 
Titanium – David Guetta feat. Sia 
Wagon Wheel – Old Crow Medicine Show 
Welcome Home – Dave Dobbyn 
Imagine – John Lennon 
You've got a Friend – Carol King 
Fields of Gold – Sting (Eva Cassidy) 
Life For Rent – Dido 
A Whiter Shade of Pale – Procol Harum 
Can't Help Falling in Love – Elvis 
Angel – Sarah McLachlan 
Endless Love - Lionel Ritchie 
Set Fire to the Rain - Adele 
Someone Like You - Adele 
Marry You - Bruno Mars
Back 2 Good - Matchbox 20
I'll Be Your Mirror - Velvet Underground
Wish You Were Here - Pink Floyd
For Emily - Simon & Garfunkel
I Love You - Climax Blues
This is the Life - Amy McDonald
Both Sides Now - Joni Mitchell
Shilo - Neil Diamond
Paparazzi - Lady Gaga
Hey Soul Sister - Train 
Valerie - Amy Winehouse 
We Are the World – Michael Jackson 
A Thousand Years – Christina Perri 
Jar of Hearts - Christina Perry 
Can You Feel the Love Tonight - Elton
Daniel – Elton John 
Rocket Man – Elton John 
Someone Saved My Life Tonight – Elton John 
Your Song - Elton John 
Every Breath You Take - Police  
Roxanne - Police 
Jessie – Josh Kadison 
I've Got a Crush On You – Standard 
A Groovy Kind of Love – Phil Collins 
Zepher Song – Red Hot Chilli Peppers 
Fire & Rain – James Taylor 
I'm Yours – Jason Mara 
Landslide – Fleetwood Mac 
Time After Time – Cyndi Lauper
Angel Eyes - Jeff Healey
Kathy's Song - Simon & Garfunkel
Desperado  - Eagles
Under My Skin - Gin Wigmore
Don't Dream It's Over-Crowded House
Better Be Home Soon-Crowded House
Not Given Lightly - Chris Knox
Throw Your Arms Around Me - Hunters & Collectors
Little Red Corvette - Prince
The Man Who Sold the World - Bowie
Patience - Guns & Roses
Viva La Vida - Coldplay 
Reason to Believe – Rod Stewart 
White Flag – Dido 
Don't Know Why – Nora Jones 
Wild Horses – Rolling Stone 
Lola – The Kinks 
Just Like a Woman - Bob Dylan 
Let It Be - Beatles 
Here Comes the Sun - Beatles 
Mrs. Robinson - Simon & Garfunkel 
We Are Young - FUN 
Baby Can I Hold You Tonight - Tracy Chapman 
Piano Man - Billy Joel 
She's Got a Way - Billy Joel 
New York State of Mind - Billy Joel 
Easy Like Sunday Morning - Lionel Ritchie 
The Hardest Part - Coldplay 
Africa - Toto 
Mr. Bojangles 
What a Wonderful World - Armstrong 
My Favourite Things – Standard 
Ob-La-Di Ob-La-Da - Beatles 
Bubbly - Colby Collait
One Headlight - Wall Flowers
I Will Wait - Mumford & Sons
Rainbow Connection - Muppet Show
I'm Yours - Jason Mraz
True Colors - Cyndi Lauper
Songbird - Fleetwood Mac
Romeo & Juliet - Dire Straits
Rocky Mountain High - J.Denver